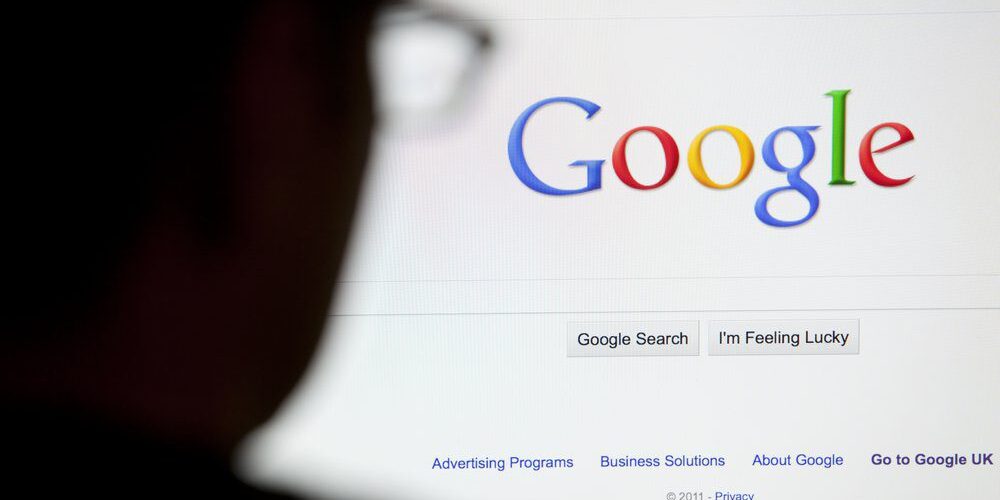 Our Free SEO Starter Kit is your guide on how to begin the process of utilising SEO with only free tools and software.
Use Vision, Precision & Decision To Kickstart Your SEO
Just to clarify, these aren't hot new rap lyrics… sorry to disappoint. These are the three essential considerations you need to make when considering a first time SEO strategy for your website and gaining favour with that all important Google Algorithm.
What Is The Google Algorithm?
Put simply, the Google Search Algorithms are the rule set that Google Search Engine uses to rank websites in search results.
Why does Google need an algorithm?
To better understand the purpose of the Google Algorithm, I'll let the numbers do the talking.
There are currently an estimated 1.98 billion websites in existence.
380 websites are created every minute.
There is over 4 billion gigabytes of internet traffic every day.
Google Search Engine processes up to 200 Petabytes (200 million Gigabytes) of information each day and 99,000 searches per second.
So with those mind boggling statistics in mind, let's imagine Google as a giant virtual filing cabinet. The Google Search Algorithm is, in essence, the equivalent of our physical dividers and alphabetical or numerical organisation systems used to make relevant information easier to access, it's just done on a much larger, faster and more efficient scale.
By defining a set of rules, standards and ranking factors, it allows Google to process our search term, cipher through the hundreds of billions of indexed web pages and other content to deliver the most relevant SERPs (Search Engine Results Pages) to us, all in less than a second.
Show me a clerk anywhere that can do that.
What are Google's Ranking Factors?
Firstly, Google never releases the entirety of its algorithm publicly, we do however know the roughly 206 ranking factors that it includes.
Of the 206 ranking factors Google considers, I am going to touch onto the ones that are widely recognised as the most important. If you would like to see the entire list, you can find it here.
The most important ranking factors recognised by SEO specialists are;
Content quality
On-page SEO
Domain authority
Mobile usability
Dwell time
Total number of backlinks
Referring domains
Organic click-through-rate
What Should You Work On First?
The simple fact is that there are no shortcuts, or quick wins in SEO. However, if properly executed, and maintained/updated on a regular basis, the effort does pay off by increasing your Google Ranking. This in turn makes your website more visible and increases the amount of website traffic you generate through organic search.
Most SEO experts would agree, that although there are many factors to consider with SEO, the 3 fundamental elements to get you started on the right track are these –
Website Crawling and Performance Tracking Tools – Vision
Relevant Keywords – Precision
High Quality Content – Decision
1. Website Crawling & Performance Tracking Tools | Vision.
Now that we know SEO is to our benefit, we need to know our starting point, which is the current organic ranking of our site. There are a wide range of tools available to help us gather important SEO data but for now we will focus on the free ones to get us started. Firstly would be Google Analytics and Google Search Console, both are absolutely essential in the tool box of any would be SEO specialist.
Search Console shows us how Google is crawling and indexing our site, it will also help us flag potential technical errors that may be hurting our search ranking. Although it is worth noting that Search Console will only flag a few technical SEO issues, to get a more thorough breakdown we would need to use paid tools such as Ahrefs.
Google Analytics is easily the most powerful free tool available to track (in real time) the Performance, Traffic and User Behaviour on our website. It offers us extensive insights into almost every facet concerning our site, just to name a few, this includes traffic source, user demographics and which content on our site users spend the most time reading or engaging with. The downside is, Google Analytics does not show us which keywords are sending us traffic. Which brings us nicely onto the third and final free tool in our SEO starter kit.
MOZ Keyword Explorer, don't worry, I'm not getting ahead of myself. I will be going into Keywords in more depth in the next section. For now we just need a free, yet effective tool to help us with keyword research, suggestions and allow us to monitor the monthly search volume of our chosen keywords for when we are ready to input them.
These 3 tools are our Vision element. We now have accurate, recordable, real time data regarding our current rankings and site performance, which will enable us to see where we need to start improving, set our SEO goals and get the ball rolling of having the Google Algorithm look upon our site more favourably.
2. Relevant Keywords | Precision
So firstly, let's start by answering the big question. What are Keywords? Keywords are the terms and phrases people put into a search engine when they are looking for a product, service or solution, otherwise known as search queries. Imagine, you are operating a site that sells cake baking ingredients & equipment, you would need to target keywords that were relevant to your business and the content on your site, such as 'Baking Equipment' or 'Cake Ingredients', so that when people search for these terms, your business appears on the SERPS (Search Engine Result Pages).
Keywords are essentially the link between a potential customer and the content you are providing. With that in mind, understanding the needs of the audience is vital, the way in which we word our content may differ from how people are searching for it, for example your site may have a budget product section, this would be a prime time to utilise long-tail keywords such as 'cheap cake ingredients UK' rather than just 'cake ingredients' which is not only vague but would potentially have very high competition and hurt our chances of ranking.
Be precise with your keywords, remember precision beats repetition, so although we want to make sure that different pages on your site include primary keywords within the URL, the H1 tag and within the content itself, we can also be penalised by Google for click-baiting and spammy over use of keywords. Meticulous keyword placement is what helps Google determine the value and relevance of your content and also provides the life blood and inspiration for our future content planning and strategy. A top tip is to target keywords that have good search volume but not extremely high competition, which is where our MOZ Keyword Explorer Tool comes in.
3. High Quality Content | Decision
A common term used by SEO specialists and creators is 'Content is King'. As mentioned before, there are nearly 2 billion websites in existence, making it extremely easy to blend into the crowd. Although this may suit the introverts reading this right now, trust me, when it comes to online presence the goal is to stand out and be seen, and to achieve this, content really is king, and high quality content is invaluable.
The main aim when developing our written content is knowing what problem our audience has, and how we can offer a solution. This could be in the form of a product, a how to guide or an informational blog.
Crucial Factors To Remember When Creating Your Content –
Consistency – Keep your content consistent with your brand tone, this makes you more identifiable and relatable to your audience, which in turn helps to build trust. Update your content regularly to avoid stagnating as well as giving your audience a reason to keep coming back for more.
Find your niche – Knowing who your audience will help you generate more relevant content to them, this improves the overall user experience and in tandem with our keywords help us to segment customers and speak directly to those who have an interest in what we may offer as a business, which eventually gains us more high quality leads.
Be original – The web is absolutely abundant with content on literally every subject imaginable… I'm sure your browser history can vouch for that. It can be tricky to have completely fresh, new ideas that no one in the world has ever thought of before, however, using our imaginary baking site as an example again, if you are sharing a recipe, the chances are you aren't going to be able to write content wildly different to every other cake making article out there. So the originality in this case can come from things such as images, layout and our tone of voice. What's important here is creating something that is memorable to the user.
To optimise SEO, having great content goes a long way, it's all well and good having the sleekest looking website with all the fancy bells and whistles but if there is no real substance on it, then people simply won't see it as it won't be able to rank highly. That isn't to say that design isn't important, it certainly is. But design and content should work to complement and align with each other, guiding users seamlessly from point A to B.
I must stress, great content needs to be preplanned, decide in advance which topics you wish to talk about and research your subject matter as well as the latest trends and talking points within your field. Create a content schedule to make sure you are updating your content at the optimal time, and although incorporating our keywords into our content is crucial, this doesn't mean repeatedly cramming them in at every opportunity, be meticulous.
In Summary
So, as we have established by now, SEO can be a difficult beast to tame, but at least we now have a starting point, and won't be jumping in blindly.
We know the 3 pillars from which we can build a solid SEO campaign at no cost, and with regular maintenance, over time we should start to see our search ranking improve.
And if you do wish to develop your SEO campaign further, our team of specialists are always happy to help with any queries you may have.